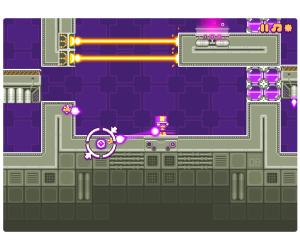 In my final post in the casual game series, I present Fault Line. The basic mechanic is that of an action game. You move your avatar through a 2D side scrolling world. Jump from one platform to the other. The final goal: reaching the "end" marker. There's no story or reason given why you might want to reach the end, other than that you can. But it won't be easy.
Because there's a twist.
This is where the puzzle part of the game enters the scene. Using some kind of fancy weapon, it is possible to slice parts away from the screen. You can't do this trick just anywhere. There are several "connection" points where you can start or end a slice. Combined with lots of lasers, moving platforms and various other death traps, the end result is a puzzle game that will keep you very entertained for a good time.